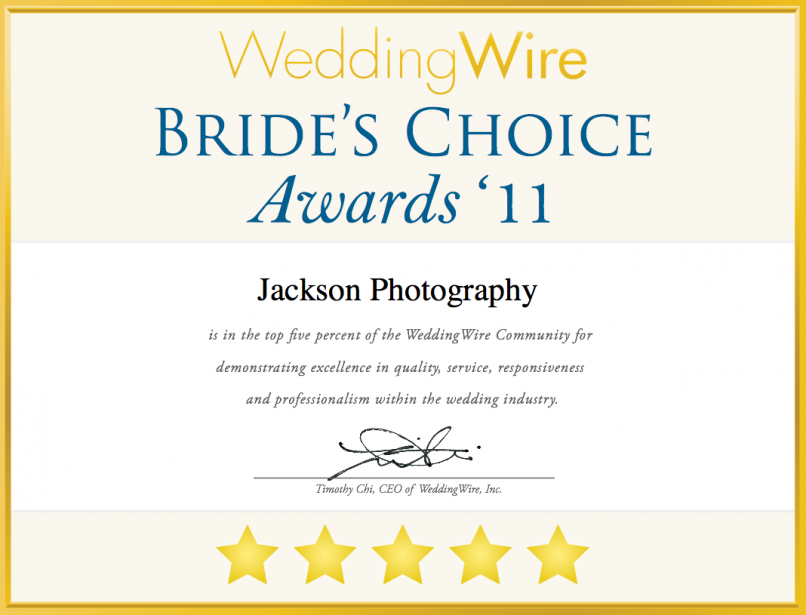 Last week we were thrilled to find out the we have won the 2011 WeddingWire's Bride's Choice Award.  Over the last year we have worked extremely hard at our craft, so it is definitely rewarding to be recognized for it.  Here's what WeddingWire had to say to us:
WeddingWire, the nation's leading wedding technology company, is thrilled to announce Jackson Photography has been selected to receive the prestigious annual WeddingWire Bride's Choice Awards™ 2011 for Wedding Photography!

Recognition for the Bride's Choice Awards™ 2011 is determined by recent reviews and extensive surveys from over 750,000 WeddingWire newlyweds. Our past clients are among those that shared their experiences on WeddingWire, the largest wedding review site in the nation.

Jackson Photography stands among the top five percent of wedding professionals in the WeddingWire community, representing quality and service excellence within the wedding industry. Awards were given to the top wedding professionals across 20 service categories, from wedding venues to wedding photographers, and were based on the overall professional achievements throughout the past year.
Thanks to WeddingWire and to all that made this possible (including you – our readers and clients!).